To login to the web based SMS system, please click LOGIN.
Personal SMS is a suite of programs which enable the sending of SMS (Mobile Text Messages) from PC's and other computers.
The following systems are available:
Personal Desktop SMS
Corporate Desktop SMS
SNPP Gateway (for automating alert messages from computer systems).
Bulk SMS

The following is a screenshot from Personal Desktop SMS: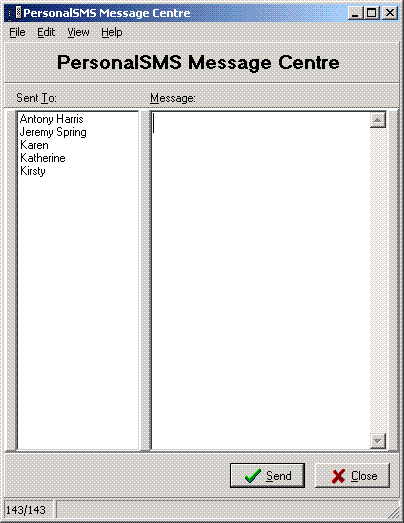 The Personal Desktop version provides the following facilities:
Fast reliable sending of SMS messages directly from the desktop.
Set "My Mobile Number" so the messages appear to have come from your own mobile number - only it's quicker and easier to type the texts.
Address book.
Groups can be created so that it is easy to send the same message to a number of users at the click of a button.
Logging of all messages.
In addition to all the features of Personal Desktop, Corporate Desktop has the following features:
Messages are sent out through a single server - only the server requires access to the internet gateway.
A Central Address Book as well as a personal address book. The system can be configured so that only the centra address book can be used, so restricting messaging to those numbers listed in the central address book.
Central storage of ALL outgoing messages - allowing full monitoring of the system.
There is no limit to the number of desktops which can be linked to the central server.
The SNPP gateway is a Simple Network Paging Protocol to SMS translater. Some programs are already capable of communicating with an SNPP service to send messages to Pagers. As pagers are less and less popular, using the Personal SMS SNPP gateway allows the same software to send messages directly to a mobile telephone - which is generally a far more reliable way of delivering messages than using a pager.

For more information, including prices please email or telephone us.

Download PersonalSMS. After downloading, please contact us to create an account.